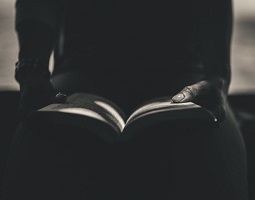 Psalm 73:21-24  Thus my heart was grieved, And I was vexed in my mind.  I was so foolish and ignorant; I was like a beast before You.  Nevertheless I am continually with You; You hold me by my right hand.  You will guide me with Your counsel, And afterward receive me to glory.  
Dearly Beloved:  May God's mercy and prosperity be upon you.
So many people are ignorant of the truth; blind to the facts of reality.  Billions of people do not know JESUS or His Word.  They are ignorant of the truth.  Such ignorance leads to eternal separation from GOD.  I can assure you that there is nothing truly blissful about being separated from GOD.  I never felt more alone than when I was separated from the truth that is JESUS CHRIST.   Back then, I felt only momentary happiness.  I searched for bliss unsuccessfully.  Being a father brought me immense joy, but there was always something missing…something that I needed to feel complete.  I tried everything – women, substances, money.  NONE of it made me happy.  I bought doodads and trinkets, all manner of luxuries.  Nothing I tried worked.  I was ignorant and blind.  But, for all my ignorance, I felt nothing resembling bliss.  I felt damp and cold.  I was shrouded in darkness and in desperate need of light.  I never once felt settled.  Nothing in my life was safe or secure.  Do any of you feel like that right now?  Are any of you lost?  Is there an emptiness inside of you that seems as though it can never be fulfilled?  Do you feel unbalanced?  Are you thirsty and hungry for universal truth?  Do you lack a sense of purpose?  Are you missing the final piece of the puzzle that is existence?  You're not alone.  I know how you feel.  I used to feel the exact same way. I can empathize with you.  You are plagued by an awful and destructive disease called ignorance.  The bad news is it is debilitating and leads to death.  The awesome news is it is curable. You don't have to spend the rest of your existence in your current condition.  What you need is a huge dose of the gospel of JESUS CHRIST.  That is the only medicine that can cure your disease.  Nothing else will work. Believe me, I tried.  I was chasing foolishness.  It was utterly absurd.  All I did was make futile attempts to find lasting joy, real joy.  Sound familiar?  I was doing nothing more than running in circles, chasing a fantasy. Until the LORD, He changed everything.
Once I learned the truth, I was finally free from the chains of ignorance. A whole new plethora of possibilities was suddenly opened to me.  I have been awakened by the light.  I am no longer blind.  I see things clearly now.  My perception of reality has been forever altered for the better.  Doors that I never even knew existed are open to me now.  Things that I could not fathom in my wildest dreams are happening to me.  Yes, its true that I am physically in chains, but I am mentally and spiritually freer than I have ever been.  "How?", you ask.  I am no longer ignorant to the one and only truth that truly matters.  I know the the truth about JESUS and the truth has set me free.  HALLELUJAH!  PRAISE GOD!
One cannot truly and fully elevate and grow without knowing the truth.  Ignorance is a leg iron that holds unbelievers back.  It keeps them from receiving their inheritance.  They are cut off from blessings and positive opportunities.  The dark is blinding.  Walking in it handicaps people.  It throws them off course. Why do you think it is that so many people lack a sense of direction and purpose?  Because they are walking blindly in total darkness.  They can't see where it is that they are going.  They think that the misery that they feel is all there is to life.  To them, life is nothing more than a compilation of setbacks, challenges, heartache, loss and ultimately death. They don't understand that there is so much more than that.  There is joy, there is purpose, meaning and blessings.  They can't see it because they are in the dark.  And thus, they are the opposite of being blissful.  They are depressed and they live each day mourning the loss of the fantasy life they dreamed of living.  All the hopes they once had have long since evaporated into the ethereal.  They are miserable.
Ignorance is not bliss.  It is a gloomy death sentence.  Many of you can relate to what I am saying.  You once were ignorant, but you don't have to be any longer.  No, sir.  I know a way that you can turn that frown upside down.  I know a way that you can illuminate the darkness so that you can see your path clearly.  Open up the Bible, read it and receive the light of the truth.  You need the gospel Truth to set you free.  You need JESUS to light your way.  Why would you keep stumbling blindly in the dark?  Now, I will admit that the path to the light is not an easy one, but it is well worth it.  It's rewarding and paved with glory.  There is plenty of JOY to be had in serving the LORD.  All you have to do is truly want it with all your heart, mind and soul.  If you will only submit and admit, then ask for forgiveness, you can be whole and enlightened.  Let the LORD shake off your ignorance so that you can be truly blissful.  Use the following prayer as a guide.  Say it to the Lord; mean it, live it and breathe it.
"Dear Jesus, I know that because of my sin I need Your forgiveness. I believe that You died on the cross for my sins. I believe You rose again so I could live with You. I want to stop living for myself and start living for You. I want Your peace in my life. I want forgiveness for my sins. Please come into my heart and change my life. I want to live with You forever. I want You to be my Lord and Savior. In Jesus' name. Amen."
If you said it and you meant it; if you gave your heart to JESUS, then you are my brother or sister and I welcome you to the light.  HALLELUJAH!  PRAISE GOD!  AMEN!  If you have accepted Jesus as your Lord and Savior, please contact us.  We want to hear from you and assist you.
May GOD bless and keep you!  May you break the chains of ignorance!  May you forever walk in the light and be blissful!  Amen!
Love in Christ,
Randall
(A Man whose chains of ignorance have been broken by the Light)
Ephesians 4:17-32
This I say, therefore, and testify in the Lord, that you should no longer walk as the rest of the Gentiles walk, in the futility of their mind, having their understanding darkened, being alienated from the life of God, because of the ignorance that is in them, because of the blindness of their heart; who, being past feeling, have given themselves over to lewdness, to work all uncleanness with greediness.
But you have not so learned Christ, if indeed you have heard Him and have been taught by Him, as the truth is in Jesus: that you put off, concerning your former conduct, the old man which grows corrupt according to the deceitful lusts, and be renewed in the spirit of your mind, and that you put on the new man which was created according to God, in true righteousness and holiness.
Therefore, putting away lying, "Let each one of you speak truth with his neighbor," for we are members of one another. "Be angry, and do not sin": do not let the sun go down on your wrath, nor give place to the devil. Let him who stole steal no longer, but rather let him labor, working with his hands what is good, that he may have something to give him who has need. Let no corrupt word proceed out of your mouth, but what is good for necessary edification, that it may impart grace to the hearers. And do not grieve the Holy Spirit of God, by whom you were sealed for the day of redemption. Let all bitterness, wrath, anger, clamor, and evil speaking be put away from you, with all malice. And be kind to one another, tenderhearted, forgiving one another, even as God in Christ forgave you.