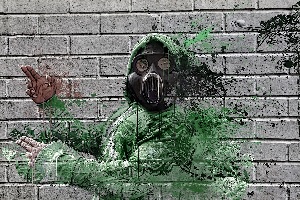 Philippians 4:8  "Finally, brethren, whatever things are true, whatever things are noble, whatever things are just, whatever things are pure, whatever things are lovely, whatever things are of good report, if there is any virtue and if there is anything praiseworthy—meditate on these things."
Dearly Beloved:  May GOD's grace, love, peace, joy and cleansing power be ever upon you.  I want to talk to you about all of the mental and spiritual pollution that exists in this corrupted world.  Now, I am not talking about greenhouse gasses or smog.  I am talking about things like pornography, violence, drugs, alcohol and the like.  Now, a lot of us are influenced by the environment that we put ourselves in, the people we are around and the places that we frequent.  And, let us not forget the content that we view.  All of those things infect our minds.  And, in time we begin to reflect what it is we surround ourselves with.  And when our surroundings are negative and sinful, we become polluted by them.  Poison seeps into our bodies and brings out our sinful nature.  That's right, I said sinful nature; because as humans we are inherently sinful.  We are born sinners by our very nature.  We are sinners from the alpha and we will continue to sin until the omega; that is to say – from the beginning until the end of our earthly existence.  Since Adam and Eve fell in the garden, we have been inherently sinful and that will never change in this world.  You see, it is my interpretation and opinion that it was necessary for GOD to allow sin into the world in order to make individuals with choices and thus unique.  The LORD has put it on my heart that this life, this world we inhabit, is a training ground for our future eternity.  It is here on earth that we are being shaped and molded by the choices we make.  It is here that the LORD finds out who is cut out for heaven and who's not.  Now, that may sound like some sort of cruel game to some of you, but I assure you, it is not.  There is a purpose to all of it and that purpose will be revealed when we reach our destination.  For those of us who make the right choices, that destination is heaven.
What are the right choices?  They are the choice to follow the LORD and his commandments.  How do we do that?  By studying His Word and turning to Him when we need guidance.  I can tell you from experience, that is not at all easy.  But, there are ways to make it less difficult – such as, living in a healthy environment and surrounding ourselves as much as possible with GODLY things.  That means giving up alcohol and drugs.  You can't go to clubs and bars anymore.  Think of the money you could save.  I was a lush.  I drank all day.  I wasted tens of thousands of dollars getting high and drunk.  Now, I will admit that for a while it was fun.  Pleasure is often a by-product of sin.  But the fun did not last and was not worth the terrible prices that I have paid for it.  It was all an illusion.  For, one day I woke up in a prison cell doing life for crimes I did not commit.  Now, had I been in better surroundings, that never would have happened to me.  You see, I was polluted and contaminated by the sickness of sin.  I surrounded myself with poison.  I want you to look around you right now.  What in your life and daily surroundings is polluting you?  Take a hard look and think about it.  You need to get that pollution out of your life.  Pray on it and ask God for strength.
What are you viewing online and on television?  I used to troll for porn online.  It polluted me.  It led me to cheat on the mother of my children.  You see, porn is mostly unnatural.  Most women do not enjoy that kind of hardcore sex.  A lot of those porn actresses take drugs and drink to dull the pain of what they are doing.  When we view porn, we begin to want to have that kind of sex.  And, when your wife won't perform that kind of perversion, then men tend to find women or prostitutes who will.  Ladies, if you are allowing your husband to view porn, then you are allowing him to cheat on you.  Make no mistake about it, he is lusting after other women and he will eventually seek out other sex partners.  That's a fact.  He is cheating every time he views porn.  If your husband is doing that, then he needs help.  The same goes for you husbands because, believe me, there are women who are porn and sex addicts as well.  Many a family has been destroyed by porn.  Many a child has been corrupted as well.  Listen to me.  Stay on top of your kids and what they are viewing.  Seventy percent of all internet content is pornographic.  That is staggering.  And, that doesn't include the sexual predators who troll for innocent children.  To all you men out there who are exploiting women by viewing porn, think of your own daughter because that could potentially be her in the future.  Every time you view it, you are exploiting someone's child.  And, you should pray that your child is not one day exploited in the same way.  You have got to watch your kids and what they surround themselves with.  There are children who are not gay that later become gay by watching porn; adults, too.  You are gambling with your life and soul by allowing your mind to be polluted by poison.  You need to be mindful of who you're with, what you do and where you go.  There are many pollutants, but I focused on porn because that is a huge issue for many families.
We talked about mental and spiritual pollution, but I want to take a few minutes to discuss environmental pollution as well.  I told you all that I would give president Trump a chance and I encouraged you to do the same.  I am happy with his choice not to sponsor abortions in other parts of the world.  We all know that that is nothing more than population control designed to keep the number of poor people down.  Why not declare a war on poverty instead of sponsoring the murder of innocent children?  I am happy with that decision, however I do not agree with his pick to head the EPA. Recently, the president's pick denied that greenhouse gasses are polluting our air or that the smog we create is causing global warming.  I don't know about global warming, but I can tell you as a person with breathing ailments that pollution is very bad for the human body and the animals as well.  The Lord said to love your neighbor as yourself.  Well, if we are poisoning each other with air and water pollution, then we are breaking the LORD's commandment.  If we are to love and respect each other in the name of JESUS, then we need to work together to create a healthier environment.  that's all I will say for now.
Now, I want to talk to those of you who are lost and have not accepted the LORD, yet.  Now is the time!  It's time to let go of the pain and suffering in your heart.  It is time to let the Lord heal you.  That goes for all of you who have backslidden, too.  Maybe it is time to repent and recommit to the Lord.  If you are ready to commit or recommit, then repeat this prayer:
"Dear Jesus, I know that because of my sin I need Your forgiveness.  I believe that You died on the cross for my sins.  I believe You rose again so I could live with You.  I want to stop living for myself and start living for You.  I want Your peace in my life. I want forgiveness for my sins.  Please come into my heart and change my life.  I want to live with You forever.  I want You to be my Lord and Savior.  In Jesus' name.  Amen."
If you said it and you meant it, then you are my brother or sister in Christ and I welcome you to the path of light.  Please contact us and let us help you on your journey.  We want to hear from you.  I love all of you very much.  Until next time…
May GOD bless and keep you!  May you seek His salvation!  May you avoid worldly pollution!
Love in Christ,
Randall
(A man trying to avoid worldly pollution)
ROMANS chapter 8
Free from Indwelling Sin
1 There is therefore now no condemnation to those who are in Christ Jesus, who do not walk according to the flesh, but according to the Spirit. 2 For the law of the Spirit of life in Christ Jesus has made me free from the law of sin and death. 3 For what the law could not do in that it was weak through the flesh, God did by sending His own Son in the likeness of sinful flesh, on account of sin: He condemned sin in the flesh, 4 that the righteous requirement of the law might be fulfilled in us who do not walk according to the flesh but according to the Spirit. 5 For those who live according to the flesh set their minds on the things of the flesh, but those who live according to the Spirit, the things of the Spirit. 6 For to be carnally minded is death, but to be spiritually minded is life and peace. 7 Because the carnal mind is enmity against God; for it is not subject to the law of God, nor indeed can be. 8 So then, those who are in the flesh cannot please God.
9 But you are not in the flesh but in the Spirit, if indeed the Spirit of God dwells in you. Now if anyone does not have the Spirit of Christ, he is not His. 10 And if Christ is in you, the body is dead because of sin, but the Spirit is life because of righteousness. 11 But if the Spirit of Him who raised Jesus from the dead dwells in you, He who raised Christ from the dead will also give life to your mortal bodies through His Spirit who dwells in you.
Sonship Through the Spirit
12 Therefore, brethren, we are debtors—not to the flesh, to live according to the flesh. 13 For if you live according to the flesh you will die; but if by the Spirit you put to death the deeds of the body, you will live. 14 For as many as are led by the Spirit of God, these are sons of God. 15 For you did not receive the spirit of bondage again to fear, but you received the Spirit of adoption by whom we cry out, "Abba, Father." 16 The Spirit Himself bears witness with our spirit that we are children of God, 17 and if children, then heirs—heirs of God and joint heirs with Christ, if indeed we suffer with Him, that we may also be glorified together.
From Suffering to Glory
18 For I consider that the sufferings of this present time are not worthy to be compared with the glory which shall be revealed in us. 19 For the earnest expectation of the creation eagerly waits for the revealing of the sons of God. 20 For the creation was subjected to futility, not willingly, but because of Him who subjected it in hope; 21 because the creation itself also will be delivered from the bondage of corruption into the glorious liberty of the children of God. 22 For we know that the whole creation groans and labors with birth pangs together until now. 23 Not only that, but we also who have the firstfruits of the Spirit, even we ourselves groan within ourselves, eagerly waiting for the adoption, the redemption of our body. 24 For we were saved in this hope, but hope that is seen is not hope; for why does one still hope for what he sees? 25 But if we hope for what we do not see, we eagerly wait for it with perseverance.
26 Likewise the Spirit also helps in our weaknesses. For we do not know what we should pray for as we ought, but the Spirit Himself makes intercession for us with groanings which cannot be uttered. 27 Now He who searches the hearts knows what the mind of the Spirit is, because He makes intercession for the saints according to the will of God.
28 And we know that all things work together for good to those who love God, to those who are the called according to His purpose. 29 For whom He foreknew, He also predestined to be conformed to the image of His Son, that He might be the firstborn among many brethren. 30 Moreover whom He predestined, these He also called; whom He called, these He also justified; and whom He justified, these He also glorified.
God's Everlasting Love
31 What then shall we say to these things? If God is for us, who can be against us? 32 He who did not spare His own Son, but delivered Him up for us all, how shall He not with Him also freely give us all things? 33 Who shall bring a charge against God's elect? It is God who justifies. 34 Who is he who condemns? It is Christ who died, and furthermore is also risen, who is even at the right hand of God, who also makes intercession for us. 35 Who shall separate us from the love of Christ? Shall tribulation, or distress, or persecution, or famine, or nakedness, or peril, or sword? 36 As it is written:  "For Your sake we are killed all day long; We are accounted as sheep for the slaughter."
37 Yet in all these things we are more than conquerors through Him who loved us. 38 For I am persuaded that neither death nor life, nor angels nor principalities nor powers, nor things present nor things to come, 39 nor height nor depth, nor any other created thing, shall be able to separate us from the love of God which is in Christ Jesus our Lord.