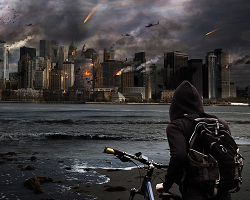 Luke 12:48-49  "But he who did not know, yet committed things deserving of stripes, shall be beaten with few. For everyone to whom much is given, from him much will be required; and to whom much has been committed, of him they will ask the more.  "I came to send fire on the earth, and how I wish it were already kindled!"
Dearly Beloved:  May God's grace, peace, love and understanding be ever upon you and may His wisdom guide your heart.  We here in America are very blessed. God has been great to us.  Those blessings are not ours alone. For to whom much is given, much is expected in return.  We and our allies have been blessed abundantly and in turn we must share those blessings with the less fortunate people in this world.  We are strong and thus we must protect the weak.  For the LORD has commanded us to love our neighbors as we love ourselves.  More than once we have been called into service to fight the evil tyrants who rear their ugly heads.  My beloved, we are being called once again.  The devil is thriving in North Korea and in Syria.  This world is being threatened by demonic dictators who lust for power.  These tyrants are unmerciful and vicious.  Their hearts are so cold that they starve and poison their own people.  They are ruthless and beyond reason.  These men are the very personification of evil.  They must be stopped at all cost.
We must pray that we can avoid war, but we must also come to the realization that sometimes war is necessary in order to bring peace and stability; because sometimes those who are infected by evil cannot be bargained with.  They refuse diplomacy.  And thus, they must be forcibly removed from power.  We cannot be selfish.  We must understand that an enemy to civilization anywhere is an enemy everywhere.  No sane or rational person enjoys war.  Most of us do not want the young of our nation to risk their lives and die, but we cannot turn a blind eye.  We cannot watch children die.  We cannot continue to allow Christians to be persecuted and murdered for their beliefs.  The nationalist movement in America wants us to stay out of it and take care of our own.  But, they must realize that if an infection is allowed to fester unchecked, it will eventually spread and threaten our way of life.  And, someday that infection will reach our shores.  More importantly, innocent children are suffering and dying.  Followers of Christ are being murdered and people who are peaceful are being slaughtered.
How can we consider ourselves civilized if we continue to witness such brutality and do nothing to stop it?  How much longer will God bless our nations if we continue to be selfish?  There are millions of people in Japan and South Korea and many of them are Christians.  They live under the constant threat that a narcissistic megalomaniac who not only has false delusions of grandeur, but also has an arsenal of nuclear weapons, might attack them.  How would you feel if your next door neighbor was a psychotic sociopath with the power to destroy your entire neighborhood?  What would this world be like if our grandparents were selfish and allowed Hitler to take over the entire globe?  What if they said that they were too tired to police the world?  Where would we be right now?  The nationalists want us to look after our own best interests.  Well, I've got news for them.  Peace and stability worldwide is in our best interest.  It is our best way to defend ourselves and our allies.  We cannot wait until the tyrants are standing on our door step.  We absolutely must act preemptively.  If we continue to delay and act indifferently, then we risk the destruction of our nations.
I know that this is a scary time, folks.  I was speaking to my daughter the other day and she said "Dad, I think that we are about to experience World War 3!!"  She was upset and I could hear the fear in her voice.  She went on to say that it was a bad idea for us to get involved in Syria and North Korea.
She said, "Why doesn't our country take care of us and stay out of everyone else's problems?"
"Because…", I said, "We are all living on the same planet and we were all created by the same God.  We are a strong nation, sweetheart, and it is our duty to look after our fellow human beings.  The Lord says that we must love our neighbors as we love ourselves.  We have been blessed, honey.  And, to whom much is given, much is expected."
I can only hope that my words reached her.  And, I hope that they reach you all as well.
Let us pray:  Dear LORD, We come to you on bended knee with burdened hearts.  We pray for your peace and understanding.  We pray that you give us the strength to do what must be done and the wisdom to know what that is.  We pray for the poor children who are suffering in war-torn countries. We pray for the oppressed and persecuted people who are being murdered by evil tyrants.  Lord, we pray for our service men and women who put their lives in danger to protect us.  Dear Lord, we pray that you guide them and protect them.  We pray that you guide and protect our leaders and give them the strength and wisdom to do what must be done, Father.  Never-the-less, Father, not our will, but your will be done.  Amen and Amen!!!
Some of you have not been saved by Christ.  You have not yet accepted Him into your heart and allowed him to change you.  Look around you.  We may very well be on the brink of war.  We may end up in World War 3.  Armageddon could happen at any moment, folks.  The Lord tells us that we will know neither the day nor the hour.  Have you thought about what might happen to your soul when you die?  Folks, I promise you that if you do not accept Jesus as your Lord and Savior, you will be dammed and doomed to suffer and burn for eternity.  Some of you are laughing.  You think this is all make believe.  GOD IS REAL!!!!  HELL IS REAL!!!  Listen to me, please!!  I am begging you to please accept the Lord before it is too late!  NOW IS THE TIME!!!  We may end up going to war with nuclear powers!!!
Please say the following prayer:  "Dear Jesus, I know that because of my sin I need Your forgiveness.  I believe that You died on the cross for my sins.  I believe You rose again so I could live with You.  I want to stop living for myself and start living for You.  I want Your peace in my life. I want forgiveness for my sins.  Please come into my heart and change my life.  I want to live with You forever.  I want You to be my Lord and Savior.  In Jesus' name.  Amen."
If you said it and you meant it, then you have been saved and I welcome you to the fold.  Please contact us. We want to help you on your journey.  I love you all very much!!!
May GOD bless and keep you!!  May HE bring us peace and JOY!  May all of us understand that to whom much is given, much is expected!!!
AMEN!!
Revelation 20:11-15  "Then I saw a great white throne and Him who sat on it, from whose face the earth and the heaven fled away. And there was found no place for them.  And I saw the dead, small and great, standing before God, and books were opened. And another book was opened, which is the Book of Life. And the dead were judged according to their works, by the things which were written in the books.  The sea gave up the dead who were in it, and Death and Hades delivered up the dead who were in them. And they were judged, each one according to his works.  Then Death and Hades were cast into the lake of fire. This is the second death.  And anyone not found written in the Book of Life was cast into the lake of fire."