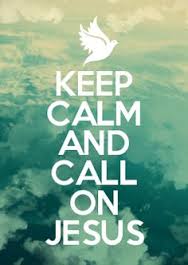 Matthew 6:27 Which of you by worrying can add one cubit to his stature?
Dear Readers,  One of the devil's most powerful and destructive tools is stress.  There are few things in this world which can harm you, age you, unsettle you and assault your mental and physical well being more than stress.  I am convinced that the leading cause of illness and death is stress.  Stress – like hate – is poison.  My current situation can be very stressful at times.  There are no vices in here to take the edge off.  One must learn to cope and combat stress naturally.  I have learned some techniques that I would like to share with you.
The first is prayer.  But, before you pray, it is best to calm yourself and clear your mind.  For me, the best way to do that is to simply breathe.  Sit down in a comfortable position.  Keep your body relaxed.  Breathe deeply in your nose and out of your mouth.  Focus on your breathing, the sound of it and the timing of your breaths.  Clear everything else from your mind, close your eyes and focus only on breathing.  Stretching is also a de-stressor.  I think it is okay for Christians to do yoga-like exercise as long as we do not follow the Hindu doctrine.  When you feel angry, loosen your jaw, open and close your mouth and wiggle your jaw back and forth.  Our muscles tighten when we are stressed.  If we keep them loose, we relieve pressure and release stress.  After you have loosened your body,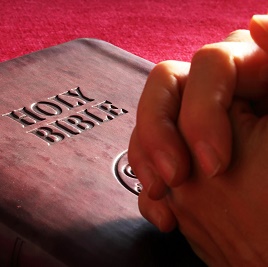 pray and meditate on the Lord. The longer the better.
The best way to maintain a virtually stress-free life, is to take preventative measures.  I find that studying the Bible daily is a great way to keep my thoughts positive.  Meditating on the Word of God is very soothing.  Constant daily prayer is also very effective.  When you feel worry and anger creeping in, ask God to take them away.  Tell Him you need His help.  Submit to God and admit you can't handle your problems on your own.
At least 30 minutes of exercise daily is also very important.  Staying in shape reduces stress.  Eat grains, nuts, fruits and lots of veggies.  Eat red meat, cheese and sugar in moderation only.  Remember that your body is God's temple.  Do not value worldly things.  If it is not of God, it does not matter.  Strive to be faithful.  Faith is the key to the peace of Jesus Christ.  Live your life; Do not let life live you.  If I can be peaceful in my dire circumstances, then so can you.  Remember that God is the center of our universe. Stay focused on Him.  If we take care of ourselves and each other, then we honor our Father.  Do not let the sun go down on your anger.  Be at peace with yourself and those around you.  Remember that forgiveness is good for your soul.
Romans 5:1-5  Therefore, having been justified by faith, we have peace with God through our Lord Jesus Christ, through whom also we have access by faith into this grace in which we stand, and rejoice in hope of the glory of God. And not only that, but we also glory in tribulations, knowing that tribulation produces perseverance; and perseverance, character; and character, hope. Now hope does not disappoint, because the love of God has been poured out in our hearts by the Holy Spirit who was given to us.
May God bless and keep you!  May you live a stress-free life!  May you always seek God's peace!
Love in Christ,
Randall