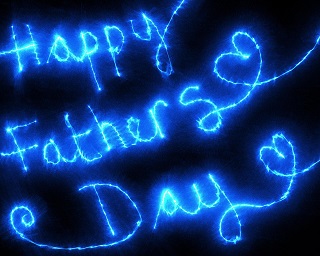 John 10:29-30  My Father, who has given them to Me, is greater than all; and no one is able to snatch them out of My Father's hand.  I and My Father are one."
Dear Readers,  I pray for a happy and blessed Father's Day for all the Dad's out there.  As you celebrate this happy holiday, take a moment and thank the Greatest Father of all time, GOD.  It is not easy finding gifts for our earthly fathers.  It is even harder to find something for our Supreme Father.  What can you give a Father who truly has it all?  The only things God wants from us is love, respect and obedience.  When we give those to Him, it brings Him glory.  Aren't those the greatest gifts that any child can give a father?  Those gifts are a small price to pay for God's grace and blessings.  And, yet, most of us have a hard time with them, don't we?  I know I do.  Our selfish and sinful nature hinder our ability to honor the Father.  We get so caught up in ourselves and our own desires that we forget where it is that all the good in our lives comes from.  Without God, we wouldn't have our children.  For that matter, without God, we wouldn't even exist.  People who don't know God wish they did not exist.  To them, all is meaningless.  But, for those of us who believe in the truth, we enjoy every minute of our existence – even when it is hard –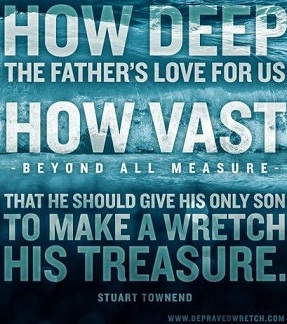 for we know and have faith in the Almighty God of Love.  Hallelujah!  The greatest of the great.  King of kings.  Creator of all that ever was, is or ever will be.  Praise God!  Shout His name!
We love our Father, for it is by Him that we thrive.  But, do we thank Him enough?  Do we praise Him enough?  Do we appreciate what He does for us?  A lot of us think we do, but are we correct?  The more I study, the more I learn.  I realize how ungrateful I have been.  Now, that might sound crazy coming from a man who is penniless and facing life in prison, but you see, I understand that my Father did not put me here.  I ended up here because in the past I chose not to follow God.  And though I am not guilty of the crimes I am accused of, my choices and affiliations landed me here.  God did not convict me.  No, sir.  A corrupt justice system did.  God not only saved my life, He saved my soul.  Even though I am unworthy to even speak His name, He has redeemed me.  Praise His name!  Thank you, Jesus!  If it wasn't for God, I would be dead and my soul would be waiting to be cast into the lake of fire.  All this I know and I am grateful – very, very grateful.  But, I never feel that I am grateful enough.  How can I ever repay what He has done for me?  I can't.  Still, I have to try even though it is impossible.  My God has blessed me in so many ways.  When it comes to God, every day is Father's day.  We should all show Him our gratitude.
John 16:14-15  He will glorify Me, for He will take of what is Mine and declare it to you.  All things that the Father has are Mine. Therefore I said that He will take of Mine and declare it to you.
May God Bless and Keep You!  May you strive to honor Him!  May you always be reminded of His mighty works!
Love in Christ,
Randall