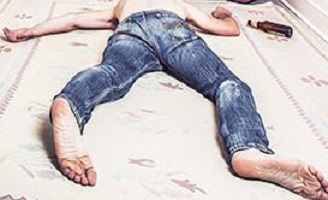 II Corinthians 4:8-10  "We are hard-pressed on every side, yet not crushed; we are perplexed, but not in despair; persecuted, but not forsaken; struck down, but not destroyed—always carrying about in the body the dying of the Lord Jesus, that the life of Jesus also may be manifested in our body."
Dearly Beloved:  May the blessings of the Lord be upon you.  This post, I am sad to say, was inspired by a very tragic event – suicide.  A few days ago, a man killed himself in the next cell block over from mine.  I did not know him, but his death never-the-less has deeply affected me.  All life matters to God.  This man's death has hit home for me as an incarcerated man.  You see, it was the despair over his circumstances and the gloominess of confinement which swallowed that man's life.  He allowed it to consume him.  He succumbed to his suffering and the brutally unjust nature of this world.  It was satan who caused him to destroy himself.  He manipulated him into doing the unthinkable.  We (all of us) are in danger of succumbing to the despair and suffering we face in this world.  I say, "Thank you, thank you, thank you, Jesus, for giving me the peace, joy and strength that is needed to prevent me from making the same mistake as that man.  Praise you, Jesus!"
Too many of us have flirted with thoughts of suicide in our lives, myself included.  We are all constantly embroiled in spiritual warfare.  It is a daily battle.  The enemy is constantly attacking us day in and day out – wanting us to feel worthless, like our lives are meaningless.  Remember my beautiful brothers and sisters, satan is a liar and the father of them.  To the Lord your God, you are more precious than anything in existence.  We all are.  I see so much pain in here; so much fear and self-loathing.  There are many, believe it or not, who are afraid of getting out because they don't know how to function in normal society.  It is so sad.  So many don't realize how much potential they have.  It is that lack of self worth which can lead someone to harm themselves.  That is never the answer.  It is a very selfish act, one that deeply affects everyone around it, everyone who has a connection to the victim.  Some people kill themselves slowly and without thought.  If you are using drugs, alcohol or engaging in other forms of dangerous sinful behavior, you are killing yourself.
God never meant for us to self destruct.  He wants us to endure and persevere through hope and faith.  Once you come to understand that God is in us and we in Him, you will no longer hate yourself.  To all of you out there who have been affected by suicide, my prayers are with you.  To those of you who are in despair and feel hopeless, I want you to know that God loves you and so do I.  You matter.  And, no matter what, your life is worth living.  It will not rain forever.  Be faithful and trust in the Lord.  He will see you through.  If you need to talk to someone, please make use of the crisis hotline and resource links at the bottom of this post.  Also, feel free to write me.  I promise that I will get back to you.  I care about you; more importantly, God cares about you.
May God bless and keep you!  May your hope, trust and faith be in Him.  May you love God and receive His love willingly.  Amen!
Love in Christ,
Randall
(A man, who like all of you, is very, very loved by the Lord)
II Corinthians 6:1-10
We then, as workers together with Him also plead with you not to receive the grace of God in vain. For He says: "In an acceptable time I have heard you, And in the day of salvation I have helped you."  Behold, now is the accepted time; behold, now is the day of salvation.  We give no offense in anything, that our ministry may not be blamed. But in all things we commend ourselves as ministers of God: in much patience, in tribulations, in needs, in distresses, in stripes, in imprisonments, in tumults, in labors, in sleeplessness, in fastings; by purity, by knowledge, by longsuffering, by kindness, by the Holy Spirit, by sincere love, by the word of truth, by the power of God, by the armor of righteousness on the right hand and on the left, by honor and dishonor, by evil report and good report; as deceivers, and yet true; as unknown, and yet well known; as dying, and behold we live; as chastened, and yet not killed; as sorrowful, yet always rejoicing; as poor, yet making many rich; as having nothing, and yet possessing all things.
---
Have you been thinking about hurting yourself or contemplating suicide?  Do you need immediate help?
Dial 911 or click on one of the crisis hotline resources below to call or chat with someone right now!  
Please read these excerpts from an article entitled "Godly Wisdom for Suicide Prevention"
by Janet Chismar (September 9, 2010)
[ "Whenever someone writes to say they're thinking about taking their own life," said Billy Graham, "I wish I could sit down with them and do everything I possibly could to encourage them and persuade them not to take that final, drastic step. No matter how hard life has gotten, I know that with God there is hope."]
["Suicide is extremely serious and tragic in God's eyes," said Graham, "and if someone who is reading this is contemplating suicide, I beg of you to reconsider and seek help for whatever your problem may be. God loves you—whether you believe it or not—and He does not want you to end your life. Satan does, however—and you must not listen to him."
Instead, "put your faith and hope in Christ and His love for you. You are never alone if you know Him," Graham added, "because nothing 'will be able to separate us from the love of God that is in Christ Jesus our Lord' (Romans 8:39)."
Turn to Him today, and by faith ask Christ to come into your life. "When we know Christ we are never alone," said Graham. "He is with us, and so are our fellow Christians."
Reach out for His loving hand today, and Save a Life—your own—for eternity. ]
If you need to talk to someone right away, please call 1-877-247-2426 or email help@bgea.org