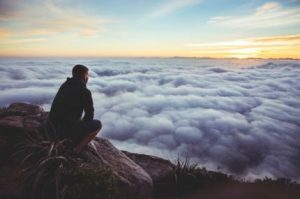 Exodus 3:14-15
And God said to Moses, "I AM WHO I AM." And He said, "Thus you shall say to the children of Israel, 'I AM has sent me to you.'"  Moreover God said to Moses, "Thus you shall say to the children of Israel: 'The Lord God of your fathers, the God of Abraham, the God of Isaac, and the God of Jacob, has sent me to you. This is My name forever, and this is My memorial to all generations.'
Dearest Brothers and Sisters:  Greetings!  May God's grace, love, peace, joy and protection be ever upon you all.  Let me start by saying, "Praise God!  Praise God!  Praise God!  Amen and Amen!"  It feels so good to praise Him.  Hallelujah!  I love the Lord so much, for He is all mighty and everlasting.  I am truly blessed to report that after many months of separation (due to my solitary confinement in Maine), I was finally reunited with my two eldest children this week.  I was able to visit with each of them individually for several hours.  God Is Great!  Yes, He Is!  Amen!  I knew from the beginning of my situation when I turned myself in that I would be railroaded.  Thus, my heart was heavy when I was transported from Massachusetts to Maine in 2012.  I remember thinking that I may never see my beloved home state again, for I knew that my color would be a huge factor in my case.  Tears streamed down my face as I pondered the possibility of never returning to my place of birth again.  But, you see, I did not know or trust the Lord then.  I was only just beginning to connect with Him.  Nothing in this or any other world can thwart God when He has a plan.  God meant for me to return home and so here I am.  It is true I am still in chains, but nevertheless, I am home.
I have witnessed and experienced so much these last three and some odd years and through it all, it has been "me, myself and I AM" – together as one.  It is true that I have had and continue to have many supporters and I love and thank all of them.  But, it has been JESUS who has supported me the most.  Praise His Name!  Shout Hallelujah!  To You, Lord, be all the glory!  Amen!  Sitting with my beautiful daughters was a powerful testimony to the blessings and strength of our Lord Jesus!  He truly is an all mighty God and He keeps His promises and answers worthy prayers when they are in line with His will.  Let me tell you that I prayed so hard to return home and be near my family and here I am, a living testament to God's glory.  He loves to make examples out of His children.  Let me tell you that I am thrilled at the prospect of what lies ahead for me.  Psalm 23:6 says "Surely goodness and mercy shall follow me all the days of my life; and I will dwell in the house of the Lord forever."  Amen!  It is such a marvel to behold His scriptures coming to pass in our lives.  The Lord provides for His faithful.  This I testify to you.  Believe, my brethren, believe in the truth of the Light.  It will set you free.  I promise you.  More importantly, God promises you.  As it is written, so shall it be done.  Amen!
The Bible is the living word of God.  That means it is active.  The scriptures are far more than letters on a page.  They are more real than anything we can possibly comprehend.  As it is written, so shall it be done.  That, my friends, is the truth of the Gospel.  The Gospel is not past tense.  You cannot say that they were – for truly, truly I say to you – they in fact are.  They exist not on a past or ethereal plain, but presently in both physical reality and a heavenly plain.  The Bible is not just a bunch of old stories and psalms.  It is happening now all around us as well as in the hearts of believers.  Open your eyes, my friends.  A life of sin is comparable to virtual reality.  It is all smoke and mirrors meant to blind us to actual reality, God and His Word.  In order to see the truth, you must become one with I AM (or, that is to say – GOD).  For it is only when we see our existence through His honest and pure eyes that we see the truth.
Read John 8:31-32
Then Jesus said to those Jews who believed Him, "If you abide in My word, you are My disciples indeed. And you shall know the truth, and the truth shall make you free."
Walk in light and you shall walk in truth, my beloved.  We are surrounded by lies in this world which are meant to confound us and trap us.  When we live a life of sin, we are living a lie.  The very moment that I became "me, myself and I AM", my eyes slowly began to open and the truth is continually being revealed to me daily.  Become one with the Father and receive the light of eternal truth.
I love you, my beloved.  May God bless an keep you!  May you become one with I AM!  May you seek and receive His eternal truth!  Amen!
Love in Christ,
Randall
(A man who feels complete being "me, myself and I AM")
P.S.
Let me give you an update on Nick.  He attended church for the first time this past Thursday, April 21, 2016.  It was wonderful.  That morning, Nick came to me very excited.  He had been reading Psalm 91 (one of my favorites).  He fell in love with it and memorized it.  I told him how I too love Psalm 91 and how I read it every day during my criminal trial.  Well, that very evening when we went to church, a volunteer led us in prayer and wouldn't you know, he recited Nick's favorite three verses from Psalm 91:5-8
You shall not be afraid of the terror by night, Nor of the arrow that flies by day, Nor of the pestilence that walks in darkness, Nor of the destruction that lays waste at noonday.  A thousand may fall at your side, And ten thousand at your right hand; But it shall not come near you.  Only with your eyes shall you look, And see the reward of the wicked.
Nick and I immediately look at one another.  Nick was stunned; his mouth was agape.  As he looked at me slack-jawed, I said, "God is speaking directly to you, Nick."  The day before, Nick asked me where to find the story of Samson.  I directed him to Judges 13-16.  Nick is a muscle-head, so the story of Samson appealed to him.  Well, God was not done shocking Nick in church.  For, low and behold, after we sang praises to the Lord, the pastor gave a sermon – and you guessed it – it included the story of Samson and Delilah.  Nick was again stunned.  I said, "There are no coincidences with God.  He is speaking to you."  It was a powerful testimony to Nick; one that truly touched him.  God is so awesome!  Hallelujah!  Please continue to pray for Nick.  Some of his old demons are rearing their ugly heads.  The devil knows Nick is heading for the Light and he is doing everything in his power to keep Nick.  Your prayers are appreciated.  I will keep you posted.