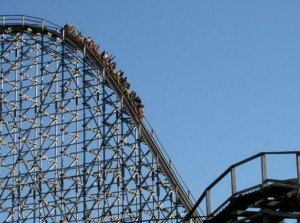 Dear beloved brothers and sisters,  May God's peace, mercy, blessings, glory and love be ever upon you.  Have you ever heard the saying "What goes up, must come down"?  For every high there is a low and vice-versa.  Nowhere in the Bible does it promise us heaven on earth.
Read Luke 3:16 – John answered, saying to all, "I indeed baptize you with water; but One mightier than I is coming, whose sandal strap I am not worthy to loose. He will baptize you with the Holy Spirit and fire."
We all, as Christians, must be baptized with fire.  The lows we face are like that fire.  It is only our faith which prevents us from being consumed by the flames.  True faith can stand up to anything this world throws at us.  Just look at our brothers and sisters in France and Belgium who continue to remain steadfast in their faith in spite of the evil carnage inflicted upon them by ignorant and savage minions of the devil.  The terrorists who seek to inflict fear only strengthen true believers.  May we all learn from those who endure such, for it is proof of God's everlasting glory.
Nowhere in the Bible does it say that it is easy to be a Christian.  In fact, it tells us repeatedly that ours is a narrow path teaming with persecution, strife and pain.  I dare any of you to show me where it says that life on earth will be easy for a Christian.  I promise you that it never does.  Read it for yourselves.  Jesus said that we must forsake all and follow Him.
Read Matthew 19:27-30
Then Peter answered and said to Him, "See, we have left all and followed You. Therefore what shall we have?"  So Jesus said to them, "Assuredly I say to you, that in the regeneration, when the Son of Man sits on the throne of His glory, you who have followed Me will also sit on twelve thrones, judging the twelve tribes of Israel.  And everyone who has left houses or brothers or sisters or father or mother or wife or children or lands, for My name's sake, shall receive a hundredfold, and inherit eternal life.  But many who are first will be last, and the last first.
Jesus endured thirty-three years on this earth and He died a horrible death.  The men who followed Him on earth, His twelve chosen apostles, almost all of them died horrible deaths.  They all were persecuted and mistreated in the name of the Lord.  But, I promise you this, when you get to heaven, you will see all twelve sitting on thrones next to Jesus.  
I know that heaven seems so far away when you are facing low points in life.  I have felt like that many, many times in my current situation.  I don't care how tough you are or how strong your faith is, we are all only human and we all question God from time to time.  I have repented many times for doing so.  The Lord has revealed more than one miracle to me, yet there are times I still struggle.  And, that's okay!  That's how we learn!  We fall and our Father in heaven picks us up again, brushes us off and encourages us to keep running the race, all the while, teaching us priceless lessons.  Like any good parent, He challenges us to push harder and become better.  Yea, though this world is as a black tunnel, we must run with faith and courage knowing that there is a light at the end.  And, no matter how far away it seems, if we choose to endure and overcome, we shall one day reach it.  That is the Lord's promise.  
All of us face doubt sometimes.  Even the apostles had doubt.  Remember Thomas or Peter and the rooster?  Doubt is a burden of our sinful nature.  Our flesh, if left unchecked, can render us skeptical pessimists at times, allowing the devil to rob us of a very precious element – Hope!  Without faith, we are hopeless.  But, with it, hope abounds in the most trying of circumstances.  Even in my darkest hours, faith has sustained me and prevented me from losing hope.  It is only by faith that I have survived my plight.  And, it is only by faith that you shall survive yours.  We who possess faith must not only think of ourselves.  We have a duty to think of others who lack faith or their faith is weakened.  We are tasked by the Lord to be spreaders of joy, faith and hope.  When we are strong, we must allow those who are not to lean on us.  And, when we are weak, we must not be afraid to lean on others; for in so doing, we are leaning on the Lord.  He works through us.  
Today was a great example of that for me.  A few days ago, I was a little glum.  I called my pastor and his wife.  They lifted my spirits.  Phone calls in prison are very expensive.  I want to talk to my loved ones every day, but logistically it is just not practical.  So, I try to space the calls out.  Well, the Spirit moved me today.  The Lord put it on my heart to call my friend, Terry.  She is my pastor's wife and she has been overwhelmed lately.  My pastor, Tom, has been having some serious medical problems.  Terry was relieved to hear my voice.  The three of us are very close.  We tell each other everything, pray for each other and lean on one another.  I am truly blessed by our relationship.  As it turned out, Terry was having a bad day.  I, on the other hand, I am having a wonderful day, spiritually.  The Lord used me to help Terry in the same way He used Tom and Terry to help me when I was down.  Amazing!  I love the way He works.  Later, I felt an overwhelming urge to call my daughter.  She answered the phone in tears.  Again, I was able to soothe her and I even made her laugh.  God sent me to her right when she needed me.  I can't tell you what her problem was because she will kill me if I do (LOL!)  But, it was something that only her daddy could mend [with the help of the Lord, of course!]  God knew that and He allowed me to be there when she needed me, even if only by phone.  Thank you, Jesus!  Praise your name, Lord!  Hallelujah!  It was yet another reminder of how involved God is in our lives.  God is always there when we need Him.  Through all the ups and downs we face, He is our one constant, our true north.  No, life is not easy.  Being a Christian is no rose garden.  But, by the grace of God, we can ride this roller coaster until the wheels fall off and be better for it – learning priceless lessons along the way, not the least of which is appreciation.
I love you so much, my brothers and sisters.  I am here for you and more importantly, God  here for you.  So, try to stay up even when you're down.  And, be there for one another.
May God bless and keep you!  May your lows teach you to value your highs!  May you maintain faith in any trial!  Amen!
Love in Christ,
Randall
(A man who rides his roller coaster of a life with Jesus by his side)