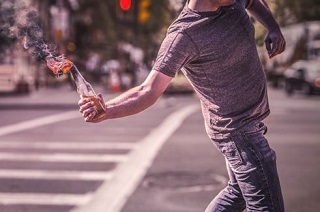 Romans 4:20-21  "He did not waver at the promise of God through unbelief, but was strengthened in faith, giving glory to God, and being fully convinced that what He had promised He was also able to perform."
Dear Readers,
Greetings, blessings, peace, love, joy and grace unto you, my beautiful brothers and sisters.  I want to send my love and prayers to my brothers and sisters in America and in Paris, France.  My condolences to all of you who have been victims of terror attacks.  In times like these, we must be strong in our faith; for it is through our faith that our minds are strengthened.  Evil is at an all time high right now.  I believe that things are going to get much worse before they ever get better.  This is a time for us to be united under Christ.  Only the Lord can lead us through this.  It is in Him that we must trust.  It is through faith that we shall overcome.  This is a time for prayer and meditation.  1st Peter 1:13 tells us: "Therefore gird up the loins of your mind, be sober, and rest your hope fully upon the grace that is to be brought to you at the revelation of Jesus Christ".  Hope and faith, brethren, that is the key to survival.  Do not just think that the Lord is real and keeps His promises; know it with all your heart and soul.  That knowledge is the path to true salvation.  With it, we can defeat anything that this world throws at us.
I am speaking to you not as a lay person, but as a man being tried by fire, even as I am writing this.  I know what it is to survive by faith.  I know what it is to feel peace and joy in spite of overwhelmingly dire circumstances.  I have learned not only to be strong in faith, but to make my faith my strength.  That is how we shall endure, brethren.  The spirit which is within me refuses to be conquered by circumstance.  It is the Holy Spirit within me which refuses to give in to my oppressors.  It is my faith that has gotten me through these past five months of near total isolation.  It is my faith which has allowed me to continue writing in the midst of threats to keep me in solitary.  Many, many people ask me how I can remain calm and peaceful despite my predicament.  I answer them all the same, "My faith in God is the only thing that gets me through this.  Without it, I would most likely give up and go mad."
You ask me how I survive?  FAITH!  That's how.
You ask how we Christians will endure the happenings of this world?  FAITH!  That's how.
How is it that the terrorists will be defeated?  FAITH!  That's how.
I see more than tragedy.  I see an opportunity for people to unite.  We must all get together and say, "NO MORE!"  Enough is enough.  That is the message which needs to be sent to these extremists.  It is God who will defeat their unholy jihad in the end.  The Lord does not fear "suicide bombers" or "lone wolf" attackers.  And, if His Spirit dwells within you, then neither should you.  It is by faith that they shall be destroyed in the end.  It is by faith that we as a people shall survive.
I caution all of you not to be prejudice against all Muslims.  The vast majority of Islam are not terrorists.  In fact, here in America, you are much more likely to be killed by a non-Muslim than you are a Muslim.  If you look at the statistics, you will find that more shooting sprees in America have been perpetrated by home grown terrorists who often happen to be middle-class and Caucasian.  I'm not making this up, folks.  Those are the facts.  Evil knows no color, no class, nor sex.  Therefore, we must not jump to conclusions nor judge.  We must see evil for what it is, evil, period.  And, how shall we overcome evil?  FAITH!  That's how.
This is an opportunity for us to come together, folks.  Let us be united in faith.  Let us join hands in prayer.  Let us lift up our problems to Almighty God.  Let us sing the same song of peace and perseverance.  Lord, let it be so!  Amen!
Let us pray:  Lord God, we believe in You.  We know that it is by faith in You that we shall survive.  We ask for strength, Lord.  We ask for peace.  We ask for unity, oh Lord.  Lord, we pray for the victims of terrorism as well as the perpetrators.  We ask for healing and the removal of evil.  We pray that eyes shall be opened and hearts shall be softened.  We pray for your light, love and glory to rain down over all and wash away our fear.  In Your Holy Precious Name, Lord.  Amen!  Thank you for praying with me, brethren.
I would also ask you all to please pray for my good friend, pastor and brother, Tom Shuford.  His kidney function has dropped to 13%.  The prison administration refuses to let Tom visit still.  Tom does not run this site, so I asked the administration why they are barring Tom even though he is not running this site.  They said it is because he has knowledge of the site's existence.  Hmmm!  The truth is, folks, they are using Tom to try and persuade me to stop writing.  Lord, how can they be so dirty and underhanded?  Have they no shame, no decency?  How are Tom and I making it through this?  FAITH!  That's how.
We are surviving by faith and you can, too.  I love you brothers and sisters.  May God bless and keep you!  May His spirit see us through!  May you learn to survive by FAITH!
Hebrews 11
1 Now faith is the substance of things hoped for, the evidence of things not seen. 2 For by it the elders obtained a good testimony.
3 By faith we understand that the worlds were framed by the word of God, so that the things which are seen were not made of things which are visible.
4 By faith Abel offered to God a more excellent sacrifice than Cain, through which he obtained witness that he was righteous, God testifying of his gifts; and through it he being dead still speaks.
5 By faith Enoch was taken away so that he did not see death, "and was not found, because God had taken him"; for before he was taken he had this testimony, that he pleased God. 6 But without faith it is impossible to please Him, for he who comes to God must believe that He is, and that He is a rewarder of those who diligently seek Him.
7 By faith Noah, being divinely warned of things not yet seen, moved with godly fear, prepared an ark for the saving of his household, by which he condemned the world and became heir of the righteousness which is according to faith.
8 By faith Abraham obeyed when he was called to go out to the place which he would receive as an inheritance. And he went out, not knowing where he was going. 9 By faith he dwelt in the land of promise as in a foreign country, dwelling in tents with Isaac and Jacob, the heirs with him of the same promise;10 for he waited for the city which has foundations, whose builder and maker is God.
11 By faith Sarah herself also received strength to conceive seed, and she bore a child when she was past the age, because she judged Him faithful who had promised. 12 Therefore from one man, and him as good as dead, were born as many as the stars of the sky in multitude—innumerable as the sand which is by the seashore.
13 These all died in faith, not having received the promises, but having seen them afar off were assured of them, embraced them and confessed that they were strangers and pilgrims on the earth. 14 For those who say such things declare plainly that they seek a homeland. 15 And truly if they had called to mind that country from which they had come out, they would have had opportunity to return. 16 But now they desire a better, that is, a heavenly country. Therefore God is not ashamed to be called their God, for He has prepared a city for them.
17 By faith Abraham, when he was tested, offered up Isaac, and he who had received the promises offered up his only begotten son, 18 of whom it was said,"In Isaac your seed shall be called," 19 concluding that God was able to raise him up, even from the dead, from which he also received him in a figurative sense.
20 By faith Isaac blessed Jacob and Esau concerning things to come.
21 By faith Jacob, when he was dying, blessed each of the sons of Joseph, and worshiped, leaning on the top of his staff.
22 By faith Joseph, when he was dying, made mention of the departure of the children of Israel, and gave instructions concerning his bones.
23 By faith Moses, when he was born, was hidden three months by his parents, because they saw he was a beautiful child; and they were not afraid of the king's command.
24 By faith Moses, when he became of age, refused to be called the son of Pharaoh's daughter, 25 choosing rather to suffer affliction with the people of God than to enjoy the passing pleasures of sin, 26 esteeming the reproach of Christ greater riches than the treasures in Egypt; for he looked to the reward.
27 By faith he forsook Egypt, not fearing the wrath of the king; for he endured as seeing Him who is invisible. 28 By faith he kept the Passover and the sprinkling of blood, lest he who destroyed the firstborn should touch them.
29 By faith they passed through the Red Sea as by dry land, whereas the Egyptians, attempting to do so, were drowned.
30 By faith the walls of Jericho fell down after they were encircled for seven days. 31 By faith the harlot Rahab did not perish with those who did not believe, when she had received the spies with peace.
32 And what more shall I say? For the time would fail me to tell of Gideon and Barak and Samson and Jephthah, also of David and Samuel and the prophets:33 who through faith subdued kingdoms, worked righteousness, obtained promises, stopped the mouths of lions, 34 quenched the violence of fire, escaped the edge of the sword, out of weakness were made strong, became valiant in battle, turned to flight the armies of the aliens. 35 Women received their dead raised to life again. Others were tortured, not accepting deliverance, that they might obtain a better resurrection. 36 Still others had trial of mockings and scourgings, yes, and of chains and imprisonment. 37 They were stoned, they were sawn in two, were tempted, were slain with the sword. They wandered about in sheepskins and goatskins, being destitute, afflicted, tormented— 38 of whom the world was not worthy. They wandered in deserts and mountains, in dens and caves of the earth.
39 And all these, having obtained a good testimony through faith, did not receive the promise, 40 God having provided something better for us, that they should not be made perfect apart from us.
Love in Christ,
Randall
(A man who is surviving by faith!)