Mark 8:34-48  When He had called the people to Himself, with His disciples also, He said to them, "Whoever desires to come after Me, let him deny himself, and take up his cross, and follow Me. For whoever desires to save his life will lose it, but whoever loses his life for My sake and the gospel's will save it. For what will it profit a man if he gains the whole world, and loses his own soul? Or what will a man give in exchange for his soul? For whoever is ashamed of Me and My words in this adulterous and sinful generation, of him the Son of Man also will be ashamed when He comes in the glory of His Father with the holy angels."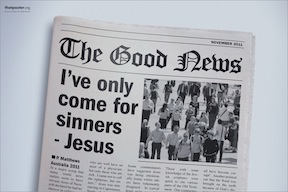 Dear Readers,  The last couple of days have been difficult to say the least.  An article discussing this site and the validity of my faith, came out on Saturday.  When the reporter contacted my lawyer to secure an interview with me, I was very hesitant at first.  I knew that people would doubt me and spew hate towards me.  In this world, there are more non-believers than believers.  It is no small feat to publicly claim Christ as your Lord and Savior, especially when you have been wrongfully convicted of triple murder and are looked at like a black boogie man.  As I do with every major decision I make, I prayed and asked the Lord for His guidance.  I do not feel worthy to represent Jesus. The Lord put it on my heart that I must.  Soon, the interview was scheduled.  The Lord put it on my heart not to practice what I would say.  He encouraged me to speak from my heart and trust that I would know what to say when the time came.  One of the first questions the reporter asked me was how I came to Christ.  I answered her honestly.  I explained to her the miracle that occurred when I was nearly murdered.  My statement included actions that the perpetrator of the crime took.  [You can read what I said in the article on BDN.com]  I don't like to talk about those events, but I had to, briefly, for I had to explain what had sparked my faith in Jesus.  I was a man who needed to see before he believed.  What happened left me no doubt that God is real.  It was the first of many experiences where Jesus revealed Himself to me (or for the first time I realized it.)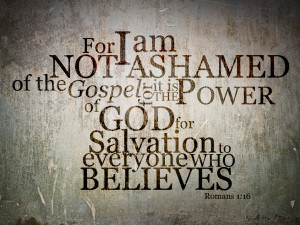 In a jail and prison environment, a snitch or rat is one of the worst things you could be.  Even though my trial is over and I did not testify – for reasons which will be revealed in time – my talking to a reporter is considered ratting.  I knew that when I made the statement.  I knew what trouble it would cause me, but I also knew that my Lord performed a miracle.  You see, I am a witness, not for the state, but for my Lord Jesus Christ.  Hallelujah!  Praise His name!  As soon as the article came out, people started taunting me.  They have been calling me a rat.  They have used vulgar language to denounce the Lord.  They have told me God's not real and that I am a fool for believing in Him.  They have called me a dirty black nigger [one of their favorite phrases].  I have been yelled at and threatened.  Yet, I am not ashamed of what I said to that reporter.  Not at all.  No sir!  Do those things hurt me?  Of course they do, but it is not about me.  Jesus endured far worse than I ever will, so that we could be saved – wretched sinners that we are.  I am amazed that He endured beatings, mockery, scourging and then died on the cross, for me, who was once an ungrateful heathen.  He didn't just do it for me, but for all of us.  I have shared recent events with you.  Not for your sympathy or recognition.  No sir.  I have shared this to let you know that if you love the Lord Jesus Christ, then you need to stand up for Him regardless of the ridicule you will face.  Some might call you fake or crazy.  So what!  The Lord will love you for it.  His blessings will fall upon you.
I have learned that the state prison will attempt to stop me from writing about my Lord on this site.  I have been told that I may be punished and locked down 23 hours a day.  They say that I may only be allowed to use the phone one time per week for 10 minutes.  I may not have a t.v. or be allowed to use the gym.  They say they may put me in super-max (a.k.a. "the hole") which is a prison within a prison.  They say that they may bury me there unless I stop writing. Yet, I shall never stop.  As long as I draw breath, I will spread God's message of salvation.  I don't care how deep they bury me or how much I am threatened and mocked.  Let the nay-sayers question my faith; for I doubt many – if any – would endure such for the Lord.  I count it all joy.  Hallelujah!  Yes, I do!
Of course, my reviews have not all been bad.  There are a lot of inmates who believe in me and appreciate what I am doing.  There are many, many people out there in the free world who have shown me lots of love and support.  They too have faith in my sincerity.  There are thousands of people who continually visit this site from all over the world.  There are thousands who keep me in their prayers.  To all of them, I give thanks.  I give thanks and praises to the Lord for everyone whether they are friend or foe.  Though I may get frustrated with some of the nay-sayers and even angry at times, I truly love everyone.  I love all of you.  I want all of you to know Christ.  It is my flesh that causes me trouble sometimes, but my spirit and my heart are with you all.  It is my great desire to be with all of you in heaven "some bright morning when this life is over."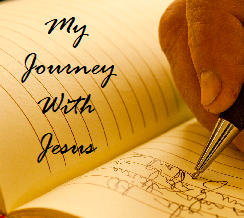 I am a new Christian.  I have only been saved for two years and seven months.  I started this site, not only to share the good news gospel, but to chronicle the changes that God is making in me.  I want to show you my transformation step by step.  That is why I share so much of my life with you all – the good, the bad and the ugly – so you can see the miracles that Jesus works in people.  I want to show you that God can change anyone.  He can take any and every situation and make something beautiful out of it.  I need you to see how truly awesome and awe inspiring the Lord, Savior, King of kings and Master of the universe Jesus Christ truly is.  Amen!  And so, I have invited you on this journey with me in hopes that you will be inspired and encouraged along the way.  I do all of this not on my own accord nor of my own volition, but at the behest and will of my Lord for the sake of His gospel.  Though at times I am reluctant, due to the doubt that I have in myself, I am none-the-less grateful to serve Jesus; For my faith in Him is strong, even when the faith I have in myself is weak.  Praise God!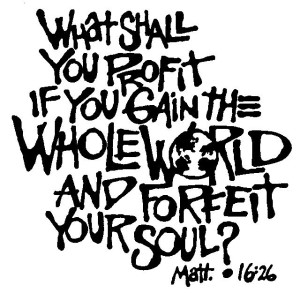 Brothers and sisters, do not be conformed to this world.  Do not put your faith in it.  It is okay to be successful as long as you realize that money will gain you nothing in eternity.  Your faith should be in Christ, not the world.  Doing good deeds will not get you to heaven.  But, if your faith is real, then they should come naturally; For they are the bi-products of true faith.  When you are in Christ, you will produce fruits and you will also receive blessings.  Don't strive to be wealthy; strive to be blessed.  Trust in the Lord, not in the world.  The world will let you down.  Jesus never will.  You see, this world is temporary.  I keep my eyes on the prize which is eternal life.  Praise God!  A-men!  Though it may hurt me and though I may suffer, I count it all joy because it is not about me.  My life on earth does not matter.  What matters is that God is glorified.  What matters is that people come to the saving knowledge of Christ.  If testifying for the Lord is a crime, then I am guilty of that.  If it makes me a snitch, a rat, a fool or a dirty black nigger to some, then so be it.  I will endure it all gladly and more for the sake of the Lord.  Let the world persecute me.  For when they persecute me, I am not alone.  Jesus is with me.  He will strengthen me and His name will bring victory.
May God bless and keep you!  May His peace and love be upon you!  May you ask for and receive the strength and courage to represent Him.  Amen!
Love in Christ,
Randall – A joyful servant of the Lord!