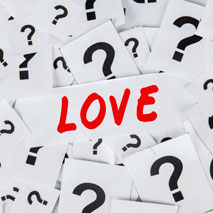 I Corinthians 13:1-3  Though I speak with the tongues of men and of angels, but have not love, I have become sounding brass or a clanging cymbal. And though I have the gift of prophecy, and understand all mysteries and all knowledge, and though I have all faith, so that I could remove mountains, but have not love, I am nothing.  And though I bestow all my goods to feed the poor, and though I give my body to be burned, but have not love, it profits me nothing.
Dear Readers,  God and Love are quintessential of one another. One cannot exist without the other for they are the same. What is God? God is Love. What is Love? Love is God. Once we understand love, we understand God and vice-versa. Many people have been fooled by their flesh and mistook lust for love. They end up getting spurned and become fearful of love. From then on, their hearts began to harden and they shut down. Many marriages fail today because people mistake the lust of the flesh for love. If you ask them why they got divorced, they'll say "We grew apart. The love faded away." Listen to me carefully. Real love never fades. It never dies. It does not go away. We may leave love, but love will never leave us. True love is God. God's love is the glue that holds everything together. Without it, everything falls to pieces.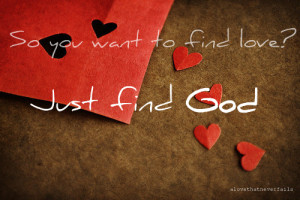 I never had a successful relationship. I never left a woman, but they always left me. I did not understand why until I got saved. I never knew what love was until God showed me. You see, I tried to love with expectations and that's not real. Love is meant to be a gift. It is not supposed to cost anything. Love is free. When you attach strings to it, it's no longer love. It becomes merely desire and desire fades. And that goes for any love, not just the love between man and wife. We need to love everyone freely, without expectation. Love is universal. It can bridge any divide, span any distance. But in order to be true and pure, love must be unconditional. When we turn love into desire, we create conflict. We become expectant and greedy. And what was once thought to be love can quickly turn to hate.
A lot of the men and women I am incarcerated with are hurting. [the women are housed separately] They are hurting because they lack love. Our prison system, such as it is, is a breeding ground for hate. In this country we are so focused on punishment that we do not consider the cost of vengeance. Our prisons are houses of pain.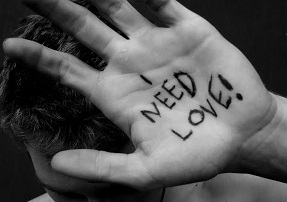 When you strip people of their humanity and separate them from their loved ones, you cause them pain and that pain can turn to hate. You might say, "Well, they committed crimes. They deserve to suffer." You don't consider the fact that someday most of those individuals will be released and some of them may unleash their pain on society. You can't just lock someone up, make them suffer and then label them so they can't get a decent job. What do you think is going to happen when you fill a man with pain and make him a social pariah? A hungry man is an angry man. That's what this country does and look at the results.
What if we treated them like human beings? What if we loved them and welcomed them back into the community? What if we rebuilt lives instead of destroying them? What if we were willing to look at each other through the eyes of Jesus? What if we all possessed His mercy and focused on redemption instead of vengeance? Some of you will quote the Old Testament and scream "An eye for an eye!" That was the old law before Christ came to show us the meaning of love. He died for us.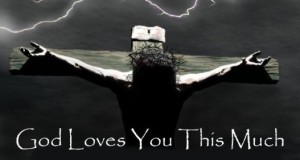 That is the ultimate sacrifice. God loves us so much that He humbled Himself. He became flesh, lived a life of innocence and allowed Himself to be wrongfully convicted, brutalized and crucified. Make no mistake about it. He felt every punch, kick, whip-stroke and nail. He endured the shame and indignity of crucifixion – For Us. Even though it was we who crucified Him, He did it because He loves us beyond anything that we can fathom. John 3:16 – "For God so loved the world that He gave His only begotten Son, that whoever believes in Him should not perish but have everlasting life." He did it to show us how to love one another unconditionally – Freely with No strings attached.
Up until I got saved, I did not understand love. Sure, I loved people, but I didn't know how to love them purely. God is teaching me that. He tell us in John 15:13, "Greater love has no one than this, than to lay down one's life for his friends."  Because of our flesh, our love is corrupted – unless and until we accept Christ and His teachings. Through Him, our love is made perfect. One thing that cannot be denied is that I love my children and my family purely, with all my heart. I always have. The same can be said of my Lord. I love Him dearly. What I am learning is that I have to love everybody just like I love my children, family and myself. Imagine if we all loved each other that way – true and pure love. What would this world be? It doesn't have to be a dream. It is a vision that can be realized. In fact, some day it shall be realized in the kingdom of the Lord.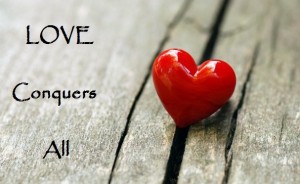 I have been meaning to write this piece for a long time, but the words escaped me. Love is such a powerful and confusing force. I still don't have the words to express how beautiful it truly is. It took a lot of studying and self-evaluation to formulate my opinion of love. It wasn't until I caught a glimpse of it through the eyes of Christ that I began to understand. I still do not fully understand love; For no one on earth can fully understand God. But, I do believe I have the basic principles and fundamentals of love. Now I must strive to apply them in every situation – which is no small feat. Hate is a very powerful force, but nothing can stand up to love. Love can conquer anything. God is Love and Love is God. I love you, my brothers and sisters. I even love those who hate me. You make me hurt and angry sometimes, but I love you just the same. I want all of you to ask yourselves, "How can I be a better lover?  Who do I know that needs a lot of love right now?"
Let us pray: Lord, we know You are pure love. We know that our love is made perfect in You. We ask You to help us love each other as You love us. We pray for the victims of hate. May You bless them, Lord. Lord, we also pray for those who have hate in their hearts. We pray for the strength to love those who spew hate. We pray that You will help us to treat each other better. Please, Lord, help us understand love so that we may better understand You. In your name, Jesus. Amen!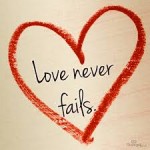 I Corinthians 13:4-8  Love suffers long and is kind; love does not envy; love does not parade itself, is not puffed up; does not behave rudely, does not seek its own, is not provoked, thinks no evil; does not rejoice in iniquity, but rejoices in the truth; bears all things, believes all things, hopes all things, endures all things.  Love never fails. But whether there are prophecies, they will fail; whether there are tongues, they will cease; whether there is knowledge, it will vanish away.
May God bless and keep you!  May you strive to understand His love!
May you allow the love of Christ to flow through you and onto others!
Love in Christ,
Randall
~~~~~~~~~~~~~~~~~~~~~~~~~~~~~~~~~~~~~~~~~~~~~~~~~~~~~~~~~~~~~~~~~