Matthew 17:20 So Jesus said to them, "Because of your unbelief; for assuredly, I say to you, if you have faith as a mustard seed, you will say to this mountain, 'Move from here to there,' and it will move; and nothing will be impossible for you.
Dear Readers,  The most powerful thing in this universe is Almighty God!  Do you know what the second is?  FAITH!  [Say it with me now…] FAITH! Hallelujah!  FAITH is what you need to believe.  FAITH is what you need to succeed.  For it is by FAITH that God's grace is achieved.  Are you with me?  Shout "Amen!"  The reason I have peace in my heart is because I am learning to live by FAITH!  Glory to God!  Without FAITH, I would be lost for sure.  Think about the people you know who are faithless.  They are sad and angry, aren't they?  They live depressed lives.  There is no point to life for them.  To them, the glass is always half empty.  Sure, some of them seem happy, but you can tell by the shallow lives they lead that they are not.  People who think that things make you happy lack true faith.  I know because I used to be one of those people.
Now, God does want us to be successful.  For sure, He does.  True success comes by His grace.  You cannot live in His grace without FAITH.  Your prayers are meaningless without FAITH.  It says in Matthew 9:22, But Jesus turned around, and when He saw her He said, "Be of good cheer, daughter; your faith has made you well." And the woman was made well from that hour.  Jesus healed her because she had FAITH.  We have to meet the Lord half way.  Jesus does not live in the hearts of the faithless.  No, sir!  He lives in the hearts of the faithful.  Can I get a witness?!  Shout "Amen!"  I don't care what you are going through, I am telling you in the name of Jesus Christ – the risen Lord and King of Kings – with FAITH you will overcome anything.  With FAITH you can live without fear.  In Matthew 8:23-26, Jesus gives a lesson in FAITH – Now when He got into a boat,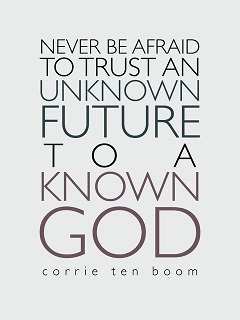 His disciples followed Him. And suddenly a great tempest arose on the sea, so that the boat was covered with the waves. But He was asleep. Then His disciples came to Him and awoke Him, saying, "Lord, save us! We are perishing!"  But He said to them, "Why are you fearful, O you of little faith?" Then He arose and rebuked the winds and the sea, and there was a great calm.  Souls are saved by FAITH.  People are healed by FAITH.  Lives are changed, miracles occur, problems are solved and dreams are fulfilled – All by FAITH.  Never underestimate the power of FAITH.  The Lord strengthens my FAITH daily and I am a better man for it.  Feast on His Word and allow Him to strengthen you too.  I know for a fact that I will not only survive, but I shall also thrive in my current circumstances.  How do I know?  Because I have FAITH in the Lord Jesus Christ.  Hallelujah!  Praise God!
When you have faith in Jesus there is nothing you can't do.  I promise you that.  More importantly, God promises you that.  Luke 18:27 says, But He said, "The things which are impossible with men are possible with God."  Those are God's words.  Read them – Live them – Cherish them – Have FAITH in them.  Luke 18:40-42 says, So Jesus stood still and commanded him to be brought to Him. And when he had come near, He asked him, saying, "What do you want Me to do for you?"  He said, "Lord, that I may receive my sight."  Then Jesus said to him, "Receive your sight; your faith has made you well."  That man was blind and now he can see – because he has FAITH.  Amen!  Praise God!  Without FAITH, we are hopeless; But with it, we are surrounded and filled by God's grace.  And that, my friends, is the power of FAITH.  Now, go and get you some of that.  Amen!
May God bless and keep you!  May you be surrounded by His grace!  May you forever live by the power of faith!
Love in Christ,
Randall