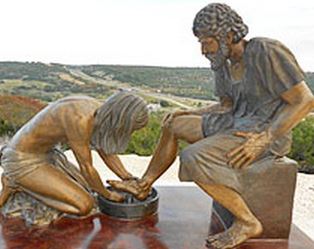 John 13:12-17  So when He had washed their feet, taken His garments, and sat down again, He said to them, "Do you know what I have done to you?  You call Me Teacher and Lord, and you say well, for so I am.  If I then, your Lord and Teacher, have washed your feet, you also ought to wash one another's feet. For I have given you an example, that you should do as I have done to you. Most assuredly, I say to you, a servant is not greater than his master; nor is he who is sent greater than he who sent him.  If you know these things, blessed are you if you do them.
Dear Readers, As you have read from the scripture at the beginning of this post, we are called to serve.  Even the mighty King of Kings bowed down and humbled Himself in service.  One of the lowliest jobs a servant or slave could perform at the time John 13 was written was the washing of guests feet.  People wore sandals then and their feet were often filthy from walking.  When the guest was considered important or honored, the lady of the house would humble herself and do the task herself as a sign of great respect.  It was unheard of for a King to perform such a task, let alone the King of all Kings, the Lord God.  Jesus has always led by example.  He came to earth – not with a crown of gold, dressed in fine linen.  No sir!  He was incarnated as an ordinary human being.  He grew up as a common laborer.  He was born in an animal pen, not a palace.  The most powerful being in existence lived a humble life as a lesson to us.  There was nothing remarkable about Jesus, the fleshly man; but spiritually, He was and is beyond measure.
As I sit here on my 40th day in state prison (all of which has been spent in solitary confinement) and I read how humble the Lord is, I feel compelled to serve Him even more.  I have been teaching what I can out in the recreation cages which I am allowed in for one hour a day.  I have also been spreading the gospel through my cell door and of course, writing this blog, but it is not enough.  Indeed, the worst part about being in solitary is not being able to help more inmates; not being able to fellowship and attend church.  It has caused me great despair and sadness.  My heart aches as I long to do more.  I miss studying the Bible with my pastor every day and visiting with his wife.  It has caused me much suffering, for I deeply love worshiping and serving the Lord.  The best way to serve the Lord is to spread His gospel.  I am currently trying to convince the administration to allow me to hold a bible study at least once a week.  In order to do so, they would have to allow myself and a small group to come out of our cells and be chained to small tables for an hour.  Please pray they will allow this.
This modern dungeon – which we inmates lovingly refer to as "the hole" or "seg" – is in dire need of fellowship and spiritual awakening.  We need all the prayers and support we can get in here.  There are some wonderful volunteers as well as the prison chaplain trying to make the bible study group a reality.  My goal is to start it with the hopes it will continue when I leave here.  It is our duty as Christians to serve.  Once you start serving, it is so hard to stop.  The joy you feel is truly addicting and infectious.  There was a time when I thought serving the Lord was beneath me.  Now, I grovel at His feet and ask Him to allow me to serve Him more.  God has humbled me, but I know I will never be humble enough while I am bound to this flesh.  None of us are and thus, we must seek opportunities to serve more.  I need to serve God in order to stay focused on the only path to the Kingdom of Heaven.  I would ask you to pray for me, my brothers and sisters, as I am in a place full of predators and snakes.  I am truly in the lion's den.  I have been engaged in a great spiritual war.  Please pray for my continued strength and ability to avoid pitfalls.  This jungle is unforgiving.  Any mistake can and will cost you dearly.  Yet, I have faith; For I know my Lord is with me.  Praise be to God!  Servitude is seen as weakness here, but I shall not let that deter me.  We need not worry about how man sees us.  We need only to focus on how we are viewed in the eyes of the Lord.  Thus, I am content to continue to serve faithfully.  For, when I think of all the Lord has done for me and I realize how much I don't deserve it, it is clear that the least I can do is serve Him.  I do so knowing that there is nothing I could possibly do to repay Jesus for what He has done and continues to do for all of us.  Praise His Name!  Glory to God!
Most of us spend a great deal of our lives serving ourselves; only to realize that it is all for naught.  There is nothing meaningful to be gained by serving one's self.  King Solomon was the wisest and richest man of his time.  He had the best of everything materially.  He tried everything he could to have fun and enjoy life, yet none of it meant anything to him.  He wrote about it in Ecclesiastes 2:1-3  "I said in my heart, "Come now, I will test you with mirth; therefore enjoy pleasure"; but surely, this also was vanity.  I said of laughter—"Madness!"; and of mirth, "What does it accomplish?"  I searched in my heart how to gratify my flesh with wine, while guiding my heart with wisdom, and how to lay hold on folly, till I might see what was good for the sons of men to do under heaven all the days of their lives."  I encourage you to read the whole book.  
There is nothing meaningful in a self-indulging life.  Really think about that.  Sure, we make great memories, but memories fade away.  All things of this world are fleeting.  Being here in prison, I have had a chance to reflect on my life.  My old life has ended and when one comes to the end of a life, one often reflects and estimates the sum total of that life.  I wasted the better part of a decade of my life for the most part.  Sure, I have wonderful memories, but only the time I spent with my children and loved ones has any meaningful value to me.  When I was with them, I served them.  I enjoyed cooking for them and shopping for them.  I loved making them laugh and bringing them joy.  Those were selfless acts and they are the only ones that matter to me.  The only joy I have is in serving; For it is the only thing that has any value in this world.  If you live your whole life serving only yourself, then you have wasted your life.  You threw it away completely.  I have traveled, partied, slept with many beautiful women, driven some nice cars, worn expensive jewelry and clothing; Yet it is meaningless to me.  I would trade all of it for even one more day of service.  
There is no purpose in self-indulgence.  That is why it is sinful.  The Bible says that "the wages of sin is death" [Romans 6:23].  We were created to love and worship.  We accomplish that through service.  This world is plagued by random acts of violence.  What if we all practiced random acts of kindness?  It is pride and selfishness which prevents people from serving others.  We must humble ourselves.  Submitting to the Lord is the best way to do that.  The Bible says "you reap what you sow" [Galatians 6:7, II Corinthians 9:6].  If you are serving and worshiping God, then you are sowing good seeds – which means you will reap good crops.  When we self-serve, we sow bad seed and inevitably we reap bad crops.  The mathematics are very simple, folks.  I love the mind of God.  He is so awesome.  He makes everything simple.  It is we who complicate things due to our sinful nature.  Now, let me tell you how awesome God is.  Not only shall we live purposeful, meaningful and fulfilling lives on earth; God's so generous that He will also provide us with rewards which we can reap in Heaven!  Hallelujah!  Praise His Name!  Shout, "Amen!" if you're with me.  Wow!  God is great!  It gives me goosebumps just thinking of His majesty.  All we have to do is L.W.S. = Love, Worship and Serve Him.  Amen!
Ecclesiastes 2:17-26
Therefore I hated life because the work that was done under the sun was distressing to me, for all is vanity and grasping for the wind.  Then I hated all my labor in which I had toiled under the sun, because I must leave it to the man who will come after me.  And who knows whether he will be wise or a fool? Yet he will rule over all my labor in which I toiled and in which I have shown myself wise under the sun. This also is vanity.  Therefore I turned my heart and despaired of all the labor in which I had toiled under the sun.  For there is a man whose labor is with wisdom, knowledge, and skill; yet he must leave his heritage to a man who has not labored for it. This also is vanity and a great evil.  For what has man for all his labor, and for the striving of his heart with which he has toiled under the sun?  For all his days are sorrowful, and his work burdensome; even in the night his heart takes no rest. This also is vanity.
Nothing is better for a man than that he should eat and drink, and that his soul should enjoy good in his labor. This also, I saw, was from the hand of God.  For who can eat, or who can have enjoyment, more than I?  For God gives wisdom and knowledge and joy to a man who is good in His sight; but to the sinner He gives the work of gathering and collecting, that he may give to him who is good before God. This also is vanity and grasping for the wind.
May God Bless and Keep You!  May your life be meaningful!  May you Love, Worship and Serve God faithfully.  Amen!
Love in Christ,
Randall
(A humble servant of the Lord)