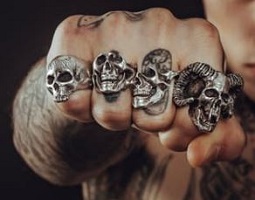 Ephesians 6:12  "For we wrestle not against flesh and blood, but against principalities, against powers, against the rulers of the darkness of this world, against spiritual wickedness in high places."
Dearly Beloved:  May God's grace, love, peace and hedge of protection be ever upon you.  We are at war with forces that are unseen, but whose presence is felt.  I realize that my writing this piece may make me sound crazy.  Heck, it took my quite some time to believe it myself, but I tell you that there is a spiritual war going on all around us.  We are bombarded and besieged by dark forces on a daily basis.  Whenever we feel angry or sad, those are dark spirits plaguing our minds.  Likewise fear, doubt, worry and pride are all products of dark spirits.  And, it is important we recognize them so we can defend ourselves.
I have been engaged in a fierce battle these past few weeks.  I have been pouring over documents relating to my criminal case in preparation for an appeal brief.  It is very painful for me.  I've been suffering night terrors and depression.  Satan knows that my mind is ripe for the picking right now.  I am hurting bad right now.  It's as if a scab has been torn from a painful wound.  Despite my faith in God Almighty, it has been very difficult for me to stay positive.  To top it off, I am falsely imprisoned for the fourth Thanksgiving and birthday in a row.
Satan loves to kick us when we are down, but God loves to raise us up again.  I am happy to report that I have found two new disciples to study with – Lee and Papo.  Hallelujah!  It took seven months, but I finally got through to some of these men.  Praise God!  Of course, that only makes Satan's attacks more vicious.  You see, he wants us to fail in our service to the Lord.  But, Jesus wants us to win!  Yes, He does!  You see, in the midst of my sadness, anger and depression, God has still seen fit to use me to reach the lost sheep.  You see, by doing so, He is reminding me of what my true purpose is.  I am an ambassador for Jesus Christ.  Amen!
Now, God wants me to fight my case for sure, but He wants me to keep my service to Him my main focus.  You see, Satan is trying to distract me and make me focus on my hurt.  He does that to all of us all the time.  How many times have you had a great day when all of a sudden a wave of sadness or anger comes over you?  How many times has your confidence been invaded by fear and doubt?  Make no mistake about it folks, we are at war!  And, the more we serve God, the more viciously the enemy attacks us.  I have been bombarded by brutal attacks since I started serving God.  You have no idea how many times Satan tries to thwart my writing for this site.  He attacks me and Tom [my pastor] and his wife, Terry, in an effort to stop us from reaching you with the gospel truth.
Pay attention because he is attacking all of you, too!  Be vigilant and stay in constant prayer.  We ask you to pray for us as we continue to pray for you.  We love all of you.
Ephesians 6:18-20  "…praying always with all prayer and supplication in the Spirit, being watchful to this end with all perseverance and supplication for all the saints—and for me, that utterance may be given to me, that I may open my mouth boldly to make known the mystery of the gospel, for which I am an ambassador in chains; that in it I may speak boldly, as I ought to speak."
May God bless and keep you!  May you be aware of the spiritual warfare going on all around you!  May you be a warrior for Christ!  Amen!
Love in Christ,
Randall
(A man at spiritual war with Satan!)