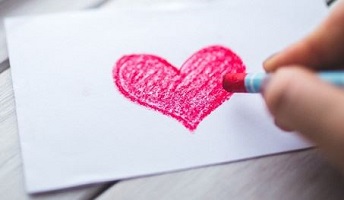 Romans 5:1-5  "Therefore, having been justified by faith, we have peace with God through our Lord Jesus Christ, through whom also we have access by faith into this grace in which we stand, and rejoice in hope of the glory of God. And not only that, but we also glory in tribulations, knowing that tribulation produces perseverance; and perseverance, character; and character, hope. Now hope does not disappoint, because the love of God has been poured out in our hearts by the Holy Spirit who was given to us."
Dearly Beloved:  May God's peace, grace, mercy and love be ever upon you and may you share it with one another.  Oh boy, what a month!  My dear friend, Erica, died and now my beautiful and precious Goddaughter and niece, Kyrah, is fighting for her life.  She has been med-flighted to Boston by helicopter and as I am writing this, she is on life support and in a coma.  Kyrah was born with a heart defect where only one side of her heart works.  She has been a miracle child since she was born.  She is only sixteen and she has had more than five open heart surgeries.  People with her condition usually don't live past thirteen years old.  Ever the fighter, Kyrah has defied the odds.  Throughout her life, doctors have been stunned at the level of energy Kyrah has.  Most kids with her condition are weak and tired all the time.  Not Kyrah.  If you didn't see her scars or heard her story, you would never know that she has a heart condition.  Her strength and energy are remarkable even for a healthy person.  Kyrah has always been an inspiration to all of us who know and love her.  I believe that that is exactly what God intended her to be.  Even when family is in turmoil and not getting along, we all always come together for Kyrah.
This is not the first time we have been through this with her.  Death has loomed over Kyrah from birth.  Kyrah has taught us all a valuable lesson: In times like these, we must "lean on" each other.  More importantly, we must "lean on" God.  I would be lying to you if I told you that I was not sad right now, because I am.  As I am writing this, tears are streaming down my face.  I have been crying, praying and begging the Lord ever since I heard the news.  My friends, I am asking all of you all around the world to please pray for Kyrah and our family.  It would mean so much to us.  I am saddened by Kyrah's suffering and Lord knows if I could give her my own heart and take away her pain, I would.  I am saddened by the prospect of her leaving us so soon, but underneath the sadness there lies hope and peace.  For I know, as sure as I know my own name, that Kyrah will be with Jesus when she goes and never again feel pain.  Kyrah has had a relationship with the Lord since she could talk.  Kyrah is a believer.  She has prayed over every meal and every night before she goes to bed and to my knowledge, she has never lost faith in the Lord.
Until today, her parents and I have only spoken twice in four years – once by mail and once on the phone.  My old lifestyle tore us apart and my wrongful imprisonment was too much for them to bear.  But, all that disappeared on September 17th when Kyrah collapsed and needed CPR.  We reconnected right away.  As soon as I heard the news, I frantically called them and all was forgiven and forgotten for the love of our Kyrah.  We are doing what the Lord used her to teach us.  We are leaning on each other and God.  Even though I am shedding tears, the Lord is comforting me and I am sharing His comfort with my family.  That's what He tells us to do in the scriptures…
II Corinthians 1:3-7  "Blessed be the God and Father of our Lord Jesus Christ, the Father of mercies and God of all comfort, who comforts us in all our tribulation, that we may be able to comfort those who are in any trouble, with the comfort with which we ourselves are comforted by God. For as the sufferings of Christ abound in us, so our consolation also abounds through Christ. Now if we are afflicted, it is for your consolation and salvation, which is effective for enduring the same sufferings which we also suffer. Or if we are comforted, it is for your consolation and salvation. And our hope for you is steadfast, because we know that as you are partakers of the sufferings, so also you will partake of the consolation."
God has delivered me from death.  He delivers all believers from death.  For He loves us more than we could ever possibly imagine.  I have faith in God and I believe in the power of prayer, so I am asking all of you believers out there to pray for Kyrah and all who are afflicted.  Pray with faith and certainty.  Believe and know in your heart that your prayers will be heard and answered – one way, or the other.  I believe that your prayers will be answered.  My beloved, lean on me, God and each other.  I thank you for your support, my family thanks you and Kyrah would thank you if she could.  I love you all so much.
I leave you with this.
II Corinthians 1:9-11  "Yes, we had the sentence of death in ourselves, that we should not trust in ourselves but in God who raises the dead, who delivered us from so great a death, and does deliver us; in whom we trust that He will still deliver us, you also helping together in prayer for us, that thanks may be given by many persons on our behalf for the gift granted to us through many."
Have faith!
May God bless and keep you!  May you lean on Him and each other!  May you share each other's burdens!
I love you so much, Kyrah!!
Love in Christ,
Randall
(a man in the Lord that you can lean on)