Hebrews 13:6  So we may boldly say: "The Lord is my helper; I will not fear. What can man do to me?"
Dear Readers:
I often share personal things that I am going through with you. I do this because I am currently going through a great trial – spiritually, mentally and physically. I look at it as an opportunity not only to share the gospel but also to show you the strength and wisdom God gives us through our trials. It is yet another testament to how mighty He truly is.  Praise God!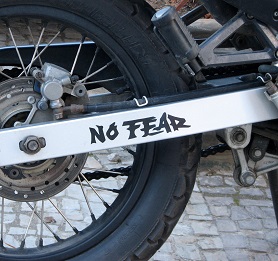 As you might imagine, the situation I am in can produce a lot of stress, fear and doubt. But, glory to God, my Lord always helps me find peace. With the help of the Lord, I am able to endure things I never thought I could endure. People are often amazed at how calm I am despite my circumstances, but there are times when fear and doubt creep into my mind. The devil uses fear and doubt to shake our faith. Sometimes I lose sight of the fact that things of this world no longer matter, for I am saved by grace and thus I have eternal life in Christ Jesus. This week was one of those times. I was nearly blinded by fear and doubt. Something happened that made me feel hopeless and helpless.
As you know, I am fighting for a new trial. I filed a motion to review some evidence. There was a witness in my case that received a deal for cooperation. No such deal was ever made known to me or the court. It is against the rule of law not to disclose all deals. This man is what is known as a [so-called] jailhouse snitch. They are people who claim to have information and exchange that information for a deal. The information this person provided did not match the State's alleged evidence. In fact, the State never used him at trial, yet they still gave him a deal after my case was over. That deal was "hush money". You see, the police coached him and told him what to say, but later, evidence proved the story was false. They gave him a deal to keep him quiet about what they did. Then, they covered that deal and their misdeeds up; first, by claiming that the tape recorder shut off on its own during their interview with him (leaving no record of what actually transpired). The detective claimed he put the tape recorder in his pocket and it powered off on its own. Why would he put it in his pocket? They always put it on the table to get a better recording. The person was interviewed in a sheriff station which is equipped with video and audio equipment and yet there is also no video of the interview. Next, they cleaned up any paper trail that there was. My lawyer and I filed a motion in July to view all records concerning this person. The court stalled our request for five and a half months. When it was finally approved, they refused to let me see the evidence. They only allowed my lawyer to view it in the presence of the D.A. and the A.A.G. Of course, all traces of what they did are now gone.
In 2012, I was offered a deal to cooperate. The State told my lawyer that they believed I did not shoot anyone. They offered to convict me of a much lessor offence. The catch was, they wanted my testimony to reflect their theory not the actual truth. I refused it in July of 2013 which caused a big dilemma for the State. You see, they had no evidence at all that I had any involvement whatsoever in the deaths of the victims. So, they hatched a plan to create evidence to link me to the crime. That August [a full year after the crime was committed], they got a cell phone expert who claimed he conducted a test which linked me to the crime – a year later, after I refused their deal. Their expert never provided any proof that he actually conducted that test. In fact, all he did was show a bunch of photo-shopped maps and some pictures of him standing next to a couple of towers. That was the gist of his proof that he ever really even conducted a test. Yet, the court allowed him to testify. On the eve of the trial, the A.A.G. re-interviewed some witnesses. She ordered the police not to record those interviews. In each instance, the person's story evolved and changed to include me – a full two years after the crime. The police knew it was against the rule of law not to record all interviews, so they put it in their reports that the A.A.G. ordered them not to record. The A.A.G. was operating as if she is above the law. The scariest part is that instead of being reprimanded or fired for breaking the law, she was promoted to the number two post in the A.G.'s office. She is now Deputy A.G. and wields even more power.
All those things are very hard to deal with. Even though I am a Christian and thus am going to Heaven, I still miss my kids and family. It hurts that people who are driven by greed and lust are trying to steal my life from me for their own personal gain. The devil uses may tools to harm us. He knows I am overwhelmed at times by all of this and he uses every opportunity to fill me with fear and doubt. He wants us to feel hopeless, worthless and unloved. He wants us to be plagued with fear and doubt. For two days, he tortured me with fear. I prayed and I prayed some more. I read the bible day and night. I commanded Satan to leave me alone. I asked God in the name of Jesus to take the fear and doubt away and He did – Praise God. The devil knows when we are vulnerable.
I have a new roommate, Brian. I have been ministering to him. He has accepted the salvation of Jesus Christ. With the help of myself and a local volunteer, he is studying the Word and strengthening his faith. You see, that dirty old devil tried to fill me with fear so that I would not be a good witness to Brian, but the Lord strengthened me and allowed me to be an even greater witness to him. Praise God.
Remember, brothers and sisters, fear is of the devil. God is bigger than any trial we face. He will strengthen you in your time of need. All you have to do is have faith, trust Him and ask Him for help. No matter what the outcome of my case is, I will never be defeated; for I am part of the body of Christ. I died with Him and I have risen with Him and thus I share His victory. I may be physically confined for the rest of my physical life on earth, but I am mentally and spiritually free and my soul shall be free for eternity after I leave this corrupt world. Amen!  I leave you with the passage below. Please read it and pray when you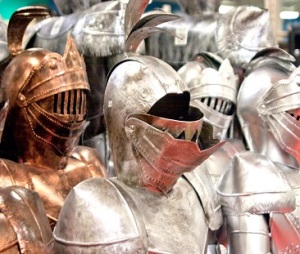 experience fear. Remember, God hears all prayers when they are aligned with His will.
Ephesians 6:10-20
Finally, my brethren, be strong in the Lord and in the power of His might. Put on the whole armor of God, that you may be able to stand against the wiles of the devil. For we do not wrestle against flesh and blood, but against principalities, against powers, against the rulers of the darkness of this age,against spiritual hosts of wickedness in the heavenly places. Therefore take up the whole armor of God, that you may be able to withstand in the evil day, and having done all, to stand. Stand therefore, having girded your waist with truth, having put on the breastplate of righteousness, and having shod your feet with the preparation of the gospel of peace; above all, taking the shield of faith with which you will be able to quench all the fiery darts of the wicked one. And take the helmet of salvation, and the sword of the Spirit, which is the word of God; praying always with all prayer and supplication in the Spirit, being watchful to this end with all perseverance and supplication for all the saints — and for me, that utterance may be given to me, that I may open my mouth boldly to make known the mystery of the gospel, for which I am an ambassador in chains; that in it I may speak boldly, as I ought to speak.
May God bless and keep you! May you allow Him to remove all fear and doubt.
Love in Christ,
Randall