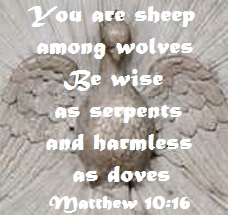 Matthew 10:16-20  Behold, I send you out as sheep in the midst of wolves. Therefore, be wise as serpents and harmless as doves. But beware of men, for they will deliver you up to councils and scourge you in their synagogues. You will be brought before governors and kings for My sake, as a testimony to them and to the Gentiles. But when they deliver you up, do not worry about how or what you should speak. For it will be given to you in that hour what you should speak; for it is not you who speak, but the Spirit of your Father who speaks in you.
Dear Readers:  I have some astonishing news.  As many of you know, a judge made a politically motivated decision which wrongfully denied me a new trial.  Admittedly, the first two days were very hard.  I had a root of bitterness in me after my attorney gave me the news.  Through much prayer and fasting, the Spirit of the Lord reminded me to overcome my despair.  I am currently very much at peace.  Praise God!  You see, the Lord reminded me that I have a battle to fight for His namesake.  This evil and tyrannical, racist and unjust justice system is attempting to stop myself and others from publicly proclaiming the name of my Lord and teaching His Word worldwide.  They are trying to stifle our God-given creativity by silencing our faith.  I am here to tell you folks that fascism is alive and well in present day America.
The first couple of days, my flesh was troubled.  It caused me to focus on myself and how I have been wronged.  I was tormented and discouraged.  I felt victimized and defeated.  I prayed and cried to my Lord repeatedly and He answered my prayers.  On the third day, I instantly knew peace.  The Lord awakened my spirit and opened my eyes.  He put it on my heart that I have been anointed to serve Him.  Hallelujah!  He said, "Son, your captivity is necessary; for you have a mission to complete."  He told me that it is my duty to speak about my Lord.  He told me that I must go there and help to save as many souls as possible.  He said that I must enlist others to join me in this battle – both on the inside and out.  He told me all of this in His Word and I am both humbled and truly honored to answer His call.  Praise God!  I am a soldier not just for my Lord Jesus Christ, but for my fellow Americans and my brothers and sisters in Christ worldwide.  I am honored to represent them and my Father.
It is dangerous to allow a government to silence it's critics and prevent people from openly expressing their religious views.  It is barbaric to arrest a man's ability to express himself and speak of his own experiences.  Is this not a democracy?  Do we the people not have a patriotic duty to ensure freedom, equality and justice for ourselves and our countrymen?  Are we not the ones charged with keeping our government fair and balanced when it fails to do so itself?  I have a duty to my God and my country to fight for what is right!  No matter how much cruel and unusual punishment I face, I vow to fulfill that duty by fighting 'til my last breath and never give up.  I told my Lord that I am not worthy to serve Him in this way.  "I am not strong enough Lord", I pleaded.  He said, "Randall, you are my son.  I am a part of you and my Spirit shall strengthen you from within."  He said, "This battle is not yours, my son.  It is ours and we shall fight it together.  And, no matter the outcome, trust and have faith that you are planting seeds and fulfilling a purpose."  He said all that to me with His Holy Scriptures.  Hallelujah!  Praise God!
The Lord gives his biggest battles to his most unlikely of soldiers.  My faith in God is my strength.  Faith can guard you and shield you in troubled times.  Alone we are nothing, but with God we are mighty indeed.  I am calling on my brothers and sisters in Christ and all of my fellow Americans to join in this fight for freedom and equality, for they are our God-given rights.  I am calling on all people worldwide to resist oppression and fight for change.  Have faith that God will strengthen you and bless you.
The judge in my case made his decision against a new trial on the 7th day of the 7th month and his decision was 17 pages.  Christians know that seven is a special number to the Lord.  Seven is considered a perfect number.  So, when I noticed all those sevens, I immediately knew that everything is as God planned it.  I know those sevens are a sign that God's hand is over this situation.  And thus, instead of being sad or in despair over these negative happenings that I must endure; I am instead overjoyed.  For it is merely further confirmation of the Lord's purpose for me and I say "Thank you. Thank you, Jesus, for believing in me and allowing me to represent you."  Praise God!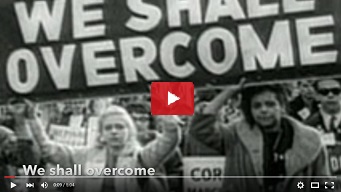 I am not special folks.  I am just a humble servant of the Lord.  All of you have the ability to serve Him as well.  It is my great hope that my experiences and what God is doing in my life will inspire and encourage you to overcome adversity.  I hope you learn to have faith in the Lord no matter what your circumstances are.  I pray that you learn that you can find meaning and purpose in any situation, no matter how dire it may be.  Folks, God has a plan for all of us.  We need only seek Him and follow Him.  I believe with the help of God and each other, we can change this crooked system.  We need only seek Him and work together.  Have faith, my brothers and sisters, for we shall overcome someday.  Keep fighting the good fight without retreat or surrender.  Always pray for our enemies and those who oppress us.  I love all of you – even those who hate me.
I want you all to know that though I may die a physical death in prison, my life is not meaningless.  I still have a purpose.  My life is not my own.  I have given it over to the Lord.  And, so it is with great faith and joy that I avow to you that any life which has been given to serve the Lord is a life worth living.  Amen!
Matthew 21:42-44  Jesus said to them, "Have you never read in the Scriptures: 'The stone which the builders rejected has become the chief cornerstone.  This was the Lord's doing, and it is marvelous in our eyes'?  "Therefore I say to you, the kingdom of God will be taken from you and given to a nation bearing the fruits of it. And whoever falls on this stone will be broken; but on whomever it falls, it will grind him to powder."
May God bless and keep you!  May we all unite and overcome adversity together!  And, may you live a life worth living!  Amen!
Love in Christ,
Randall – A man whose life is worth living!